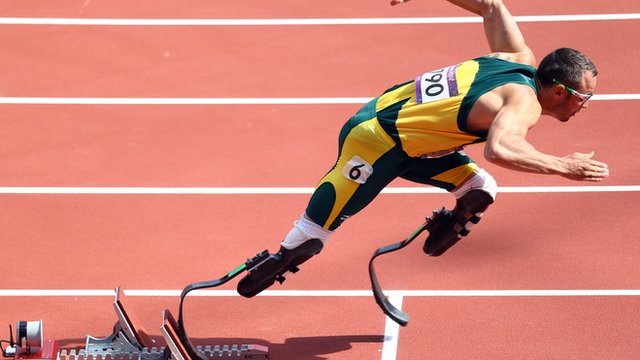 Paralympic and Olympic sprinter Oscar Pistorius has been charged with murder after allegedly shooting dead his girlfriend at his home in South Africa.
The body of Reeva Steenkamp, a top South African model, was discovered at the athlete's property in the Silver Woods gated community in eastern Pretoria.
Initial reports in South African media suggested Miss Steenkamp was apparently shot as she woke him, trying to surprise him on Valentine's Day, and was mistaken for an intruder.
But police later said the shooting was being treated as a murder and that they were "very surprised" by those reports, which they said did not come from them.
Brigadier Denise Beukes confirmed the couple were alone in the house at the time of the shooting and there was no sign of forced entry.
"I can't confirm that it's related to the person that's arrested but I can confirm there has previously been incidents at the home of Mr Oscar Pistorius," she said, saying that there were "allegations of a domestic nature".

"There are witnesses and they have been interviewed this morning," she said. "We are talking about neighbours and people that heard things earlier in the evening and when the shooting took place."
Pistorius was arrested on Thursday morning and taken to hospital for a medical examination.
He emerged from a police station after questioning, flanked by plain-clothed officers and wearing a hooded jacket covering most of his face.
The athlete requested an immediate appearance at Pretoria Magistrate's Court, but prosecutors said this had been delayed until Friday morning to give forensic officers more time.
Police said they would be opposing bail when he appears in court.

The 26-year-old is alleged to have shot his 30-year-old model girlfriend in the head and upper body. She died at the scene.
Paramedics were called to his home between 4am and 5am local time on Thursday.
The couple are believed to have started dating in November.
Her uncle, Mike Steenkamp, told reporters her family was "devastated" that her life had been cut short.
Miss Steenkamp's publicist, Sarit Tomlinson, described her as "the sweetest human being" and "a talented and bright young girl", adding that the couple had a "healthy, fabulous relationship".
Miss Steenkamp, a law graduate from Port Elizabeth who had posed in men's magazine FHM, was active on Twitter the day before.
She tweeted: "What do you have up your sleeve for your love tomorrow??? #getexcited #ValentinesDay"
In response to someone else's plans, she said: "That sounds amazing! Wow that's what it's all about! It should be a day of love for everyone :) may it be blessed!"
She was due to give a talk at a school in Johannesburg just hours after her body was found, and to star in South African reality TV series Tropika Island of Treasure at the weekend, in which celebrities and ordinary people are tasked with daily challenges in remote, exotic locations.

Photos of the model appeared in newspapers at the weekend, when she described Pistorius as an impeccable man who always had her best interests at heart.
The Johannesburg-born athlete, known as the Blade Runner because of the carbon fibre blades he uses on the track, made history in 2012 when he became the first amputee to compete in the Olympics.
In the Paralympics, he won gold in the 400m and another in the 4x400m relay.
Both of his legs were amputated below the knee just before his first birthday because of a congenital condition.
Last year Time Magazine named him as one of the world's 100 most influential people.

Pistorius, like many fellow South Africans, appeared to have serious concerns about his safety, and reportedly kept a revolver at his bedside and a machine gun by his window, as well as a cricket bat and baseball bat behind his bedroom door.
South Africa has some of the world's highest rates of violent crime with an average of nearly 50 people murdered each day. According to statistics, nearly 13 in every 100 people in the country own a gun.
Silver Woods is a high security complex with a three-metre-high wall, electric fence, a guarded entrance and regular patrols.
South Africa's M-Net cable TV channel said it was pulling an advertising campaign featuring Pistorius with immediate effect.
A Nike ad banner across the top of Pistorius' official website "I am the bullet in the chamber" has also been removed.