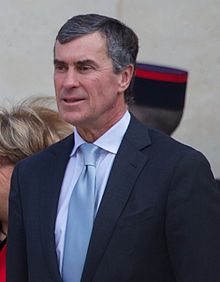 The downfall of Jérôme Cahuzac: Cosmetic surgeon. Budget minister. Tax campaigner. National disgrace. The ugly face of Socialist France

Jérôme Cahuzac made a fortune as a cosmetic surgeon offering hair-transplants to the rich and famous. He just became the ugly face of Socialist France.
The "affaire Cahuzac" – a morality tale of divorce, lies and an audiotape on which he inadvertently bugged himself – threatens to discredit President François Hollande after only 11 months in office.
The French press spoke of "one of the most spectacular scandals of the Fifth Republic". President Hollande, in a televised statement, spoke of an "outrage" committed against the French state and people.
For a banal case of tax evasion, this may seem excessive. But Mr Cahuzac, the minister in charge of tax enforcement until last month, has admitted to tax evasion, and hypocrisy, on an industrial scale. He has also admitted that he lied repeatedly to the President, to parliament and to the public.
Consider, also, the explosive context and timing. Mr Hollande is struggling to resurrect the French economy and to impose higher taxes and unpleasant cuts. Former President Nicolas Sarkozy is accused of defrauding a feeble-minded billionairess. Voters are turning away from mainstream politics to the extreme right and left.
The affaire Cahuzac threatens to destroy what remains of Mr Hollande's credibility and wreck his chances of leading France to recovery. He was elected last May promising an "irreproachable republic" after the scandals of the Chirac and Sarkozy years. At the very least it leaves him looking like a chump, first for appointing Mr Cahuzac and then for standing by him for so long. Opposition politicians are demanding a public inquiry. What did the President – and his ministers – know about Mr Cahuzac's tax evasion? And when?
On Tuesday, the doctor-turned-politician, 60, admitted that he had concealed part of his income in bank accounts abroad for more than two decades. After four months of lies, he confessed that he still had €600,000 (£509,000) in an account in Singapore.
The scandal bears resemblances to the Huhne-Price affair in Britain, but is far more damaging politically. Like Chris Huhne, Mr Cahuzac dismissed media allegations that he was later forced to admit. Mr Cahuzac has claimed that the allegations flow from a vicious divorce from his wife – and former medical partner – Patricia Cahuzac.
For 15 years they ran one of France's most lucrative medical practices, just off the Champs Elysées. Mr Cahuzac, a cardiologist turned cosmetic surgeon, and Ms Cahuzac, a dermatologist, offered micro hair-transplant surgery to actors, sportsmen and politicians. Mr Cahuzac also set up another business to help pharmaceutical companies to promote their wares. They were so successful that they bought a 200 sq m apartment on the Avenue Breteuil, one of the most select addresses on the Left Bank.
From 1997, Jérôme Cahuzac began a second career as a moderate of the Left. He made himself one of France's most respected experts on public finances. He was eloquent, polished – and arrogant. Unlike many of his peers, he understood figures. Why did a millionaire change careers? Mr Cahuzac is from the south-west where Socialism is the dominant political career path. Both his parents were Resistance heroes during the war and left-leaning afterwards.
As chairman from 2011 of the national assembly's finance committee, Mr Cahuzac called for the taxation of wealthy, French expats. As budget minister from May last year, he led a crusade against tax evasion.
In early December, the investigative website Mediapart – also responsible for allegations against ex-President Sarkozy – dropped a bombshell. It said Mr Cahuzac had once held an illegal bank account in Switzerland, and now had one in Singapore. The tax campaigner was himself a tax cheat.
Mr Cahuzac dismissed the allegations as defamatory. In a meeting with President Holl- ande, he swore his innocence. He told the National Assembly that he had never concealed money abroad "not now. Not ever".
Mediapart dropped a second bombshell. It placed on its site a muffled tape in which a politician – allegedly Mr Cahuzac – spoke of an undeclared account with UBS in Switzerland. Among other things, the voice said: "It's a real bugger to have an account open over there… It's not as if UBS is the most obscure of banks."
That conversation was recorded at the end of 2000 just before Mr Cahuzac ran successfully for the mayorship of Villeneuve-sur-Lot. The site said that Mr Cahuzac had bugged himself, in bizarre circumstances. He failed properly to cut off a phone call to the town's centre-right mayor, his future rival, Michel Gonelle. His following conversation, with a financial adviser, was accidentally recorded on the mayor's answering machine.
The site refuses to reveal who gave it the tape. It is known to have been in the hands of opponents and a former tax inspector with a grudge against Mr Cahuzac. All deny being the source. Mr Gonelle yesterday accused both right- and left-wing mainstream politicians of covering up Mr Cahuzac's tax evasion for years. The Sarkozy government was aware of the tape in 2008, he said. The implication is that there are guilty tax consciences throughout the establishment.
For three months, Mr Cahuzac insisted that the voice on the tape was not his. Last month, a forensic report for the French state prosecutor found that it "probably" was. President Hollande demanded Mr Cahuzac's resignation. He stood down, still proclaiming his innocence.
If convicted of tax evasion, Mr Cahuzac could spend three years in jail. He also faces a potentially more serious accusation of taking under-the-counter payments from pharmaceutical companies while working as a doctor and an adviser in the health ministry.
President Hollande yesterday expelled Mr Cahuzac from the party and announced tough new measures against corruption, including a ban from public life for any politician found guilty of tax evasion. In the febrile, post-Cahuzac mood of France, it is likely to be dismissed as cosmetic surgery.
John Lichfield