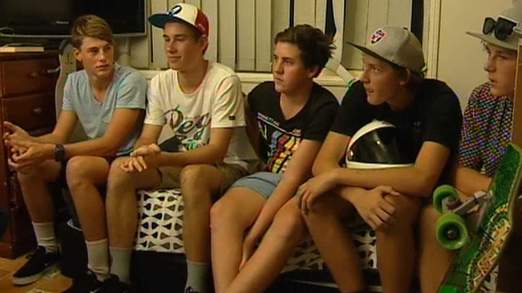 A few bored teenagers whose "stupid" dance has sparked a worldwide craze say they're amazed by the phenomenon.
By Jonathan Samuels, Australia Correspondent
Five teenage boys from Australia are warning imitators of their Harlem Shake dance to "shake responsibly" as people copying their viral video lose jobs, spark safety investigations and get arrested.
The format for the Shake was created by the youngsters on a rainy afternoon last month and has since been viewed almost one billion times online.
And, unlike other viral videos, this one doesn't seem to be dying off yet - it's just getting bigger.
In recent days 15 miners in Australia lost their jobs after recording their version underground. An inquiry has been launched in America after passengers performed a routine on a passenger jet and in Egypt four students were arrested for dancing semi-naked.
Speaking to Sky News, Jimmy Dale, 16, said: "It's weird, it's like I can't believe that's our fault and we started that. It's a weird feeling.
"A little fun and games and (then) it turns really serious like people losing jobs, getting arrested; who would think it."
Jimmy, along with George Warrener, Matt Stanyon, Oscar Mitchell, all 16, and Corey Walsh, 15, filmed the 30-second clip which begins with the boys looking disinterested sitting around a bedroom while one of them in a helmet, dances.
When the beat kicks in the video cuts to all the boys dancing erratically, George in just his underpants.

The internet dance craze was the brainchild of a five bored teenagers
It's a simple format that, according to YouTube, has been replicated 250,000 times. People have filmed themselves underwater, in a retirement home, in university lecture theatres and in football stadiums to name a few.
The viral video - known as a meme - is always accompanied by a backing track from dance music producer Baauer.
According to YouTube the dance first came to prominence through a blogger named 'Filthy Frank'. However, it was the Australian teenagers who established the format that's been so widely copied.
Despite its massive success and propelling the dance track to become a global hit, the teens say they haven't made any money from their efforts or even been acknowledged by the musician.
"Down the track when it started to get bigger we were hoping for him to contact us but not yet," said George Warrener.
Andy Jamieson, a Sydney-based social media expert from the company Switched on Media, believes he knows why the Harlem Shake videos have succeeded in an arena many companies would love similar success.
"It's really fun, it's simple and easy. If we compare that to what brands are trying to do they are often trying to push a commercial message and that's not really happening here."
The boys are all still at school and say that at first their parents were sceptical of their achievement.
"At the start dad sort of like said what are you doing, this is stupid. Then four days later when it got some serious views he was pretty amazed," said Jimmy.
http://news.sky.com/story/1062343/harlem-shakers-surprised-by-dance-craze